The Versatile Molcajete
and Scallop Baking Shells
By Chuck Kritzon
Like many of us, when practicing primitive skills, I like to use natural tools and materials whenever possible.

I had always had the problem of trying to have a natural heat source at locations that were not designed for an open fire. At the same time, finding a primitive small container for holding, heating or mixing liquids had been a problem. Several years ago I discovered new uses for a couple of readily available cooking implements and have been using them successfully ever since: the molcajete and the scallop baking shell.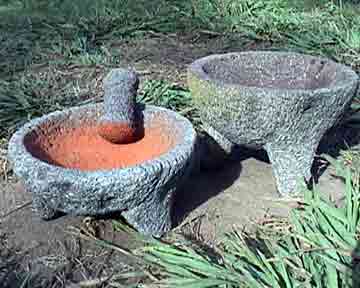 The molcajete can be found in almost every Hispanic kitchen. It is used for grinding chilies and making and serving sauces. It is a nahuatl word passed down from the Aztecs that means "stone mortar". They are made by hand in Mexico out of a porous lava stone. They are bowl shaped with 3 legs on the bottom making it very stable. They range in sizes from 6 inches to 10 inches in diameter.
The lava stone is ideal for several reasons. First, the microscopic air bubbles that make the stone porous, creates an self sharpening grinding surface. As the pestle slowly pulverizes the inside of the bowl, it is constantly exposing the new sharp edges of the bubbles below. I have used my molcajete to grind mineral pigments, charcoal for pitch and well as grains and seeds. These bubbles of air are also a great heat insulator which makes it ideal as a small brazier. The molcajete can be full of red hot glowing charcoal and it's legs will still be cool to the touch. I have used these in classes where they have been placed on picnic tables and easily moved when required. At gatherings where there isn't a central fire to get a shovel full of coals, commercial, self starting briquettes can be used. I have used the molcajete as a heat source for straightening arrow shafts, heating and melting pitch and keeping hide glue hot when painting with pigments. Molcajetes can be purchased at most stores that sell Mexican food supplies and at some Mexican import shops. They range in price from $10.00 to $18.00 and can also be found on the internet. They all come with a pestle made form the same lava stone.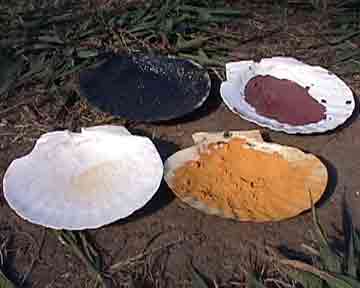 Scallop shells are great containers for holding any kind of liquid They are light weight, thin, rugged, very heat stable and easy to clean. I use the scallop shells that are sold for baking purposes. They are about 5 inches in diameter. They are not coated with anything and are safe to use with foodstuffs. They can be found at most restaurant supply stores and are priced around $10.00 for a set of 5. Be careful if you use other similar shells from other sources. They may have been coated or treated with unsafe chemicals, or may release natural materials that may be dangerous. I have used my shells for holding different colors of pigments, heating pine sap to make pitch, and keeping hide glue warm. I have never had one break, even when used repeatedly in the coals of a fire. A stick that is slightly split at the end makes an excellent handle.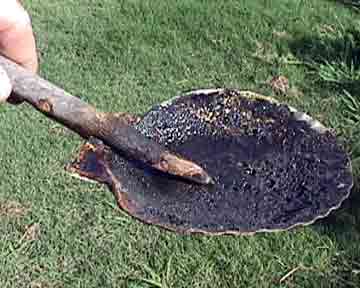 I enjoy using these tools. They are readily available, sturdy and natural.

E-mail your comments to "Chuck Kritzon" at chuckk@petroglyphics.com
We hope the information on the PrimitiveWays website is both instructional and enjoyable. Understand that no warranty or guarantee is included. We expect adults to act responsibly and children to be supervised by a responsible adult. If you use the information on this site to create your own projects or if you try techniques described on PrimitiveWays, behave in accordance with applicable laws, and think about the sustainability of natural resources. Using tools or techniques described on PrimitiveWays can be dangerous with exposure to heavy, sharp or pointed objects, fire, stone tools and hazards present in outdoor settings. Without proper care and caution, or if done incorrectly, there is a risk of property damage, personal injury or even death. So, be advised: Anyone using any information provided on the PrimitiveWays website assumes responsibility for using proper care and caution to protect property, the life, health and safety of himself or herself and all others. He or she expressly assumes all risk of harm or damage to all persons or property proximately caused by the use of this information.
© PrimitiveWays 2013