FRIENDS of PRIMITIVE TECHNOLOGY
Activities Schedule - 2002

These gatherings are not sponsored by any organization, and are the responsibility of the participants. Our objectives are as much social as learning. We don't want these gatherings to be a hassle for the hosts - so call or e-mail and they will tell you where, when and what to bring. All classes are free to the public, except where there is a fee mentioned.


HORNO BUILDING - March 17
Bill Scherer will be building a portable (?) adobe bread oven in Dino's backyard. Learn and help build this project which could prove to be a valuable addition to the cuisine at the Rattlesnake Rendezvous. Call Bill at (408) 259-5275 or e-mail scherer_william@hotmail.com.



PRIMITIVE SKILLS CAMPOUT - April 13 to April 14
Get yourself warmed up for the Rattlesnake Rendezvous on this weekend of foraging and primitive skills practice. Join this annual survival skills adventure and getaway. Contact Dino Labiste at dlabiste@yahoo.com.



THE RATTLESNAKE RENDEZVOUS (STONE-AGE WEEKEND) - May 24 to May 26
The ultimate experience of stone age living!? This year marks the 20th time we have cast off most of our modern gadgets to practice life in the old ways. We will make stone tools, fire by friction, cordage and whatever else we need. We will cook without metal and make wild music around the campfire.
Fee: $80 for residents of Alameda and Contra Costa Counties, $88 for others. Call (510) 636-1684 to register with the East Bay Regional Park District. The Rattlesnake Rendezvous course number is 1745. Also, you may call Norm Kidder at (925) 862-2600 or e-mail atlatl1@aol.com for information.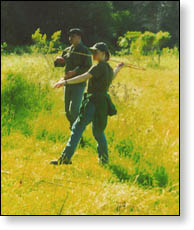 ATLATL WORKSHOP - June 15
Join Dick Baugh for a day of spear chucking. Dick has done all the engineering research on these ancient hunting systems, so you can have all the fun. Contact Dick for information and directions at dick_baugh@compuserve.com.
SUMMER SOLSTICE CELEBRATION - June 22
Since the dawn of time, cultures around the world have celebrated the longest day of the year. Bring a picnic dinner to the Coyote Hills Visitor Center Lawn (we will provide soft drinks) then don your masks and/or costumes, pick up your instruments or banners and join the procession up to Red Hill Top for a bonfire and Mid-summer merrymaking. Starts at 6:30 pm.
Fee: $5/person. Call (510) 636-1684 to sign up, or call Norm Kidder at (925) 862-2600 or Jan Southworth at (510) 795-9385 for information.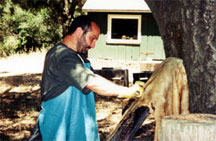 HIDE TANNING AND CAMPING - July 20 to July 21
Bill Scherer will again be spending the weekend at Sunol-Ohlone Regional Wilderness teaching the ancient art of brain tanning to willing students. The process will take two days, so camping in the park will be arranged. Call Bill at (408) 259-5275 or e-mail scherer_william@hotmail.com for information.
FELTING WORKSHOP - August 25
Dick and Marsha Baugh will be teaching beginning felt making to anyone willing to get their hands wet and soapy. Contact them at dick_baugh@compuserve.com or (650) 493-5125 for information, cost, and directions.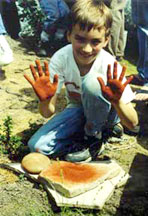 BRIDGEPORT PRIMITIVE OUTING - August 31 to September 2
Dick Baugh will again lead a group of intrepid adventurers to his favorite area for primitive skills and foraging on the east side of the Sierras. Life will be good if the Pinyon pines are productive. Contact Dick at the number above for information and to reserve a spot.
THE COYOTE HILLS KNAP-IN - Ooctober 5 to October 6
This informal weekend of rock breaking and sharing skills will again feature the Gathering of Ohlone Peoples on Sunday. Be a part of this exciting cultural event. Camping available. Call Ken Peek at (510) 527-1215 or e-mail kspeek123@earthlink.net or contact Norm at atlatl1@aol.com.
PIGMENTS OF YOUR IMAGINATION - October 19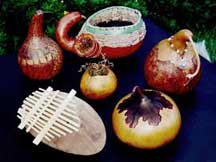 Chuck Kritzon and Ken Peek will again teach how to use natural minerals to create colorful paints for your primitive projects. Contact Chuck at chuckk@petroglyphics.com or Ken at the above for information.
GOURDCRAFTING WORKSHOP - November 16
Join Chuck and Betsy Kritzon & Ken and Betsy Peek for an exciting interlude with the incredible inedible gourd. Make cool things. See above for contact information.
View past Friends of Primitive Technology activities

E-mail your comments to "Dino Labiste" at KahikoArts@yahoo.com, "Bob Gillis" at shelter@best.com, "Richard A. Baugh" at dick_baugh@compuserve.com, "Norm Kidder" at atlatl1@aol.com, "Chuck Kritzon" at chuckk@petroglyphics.com,, or "Ken Peek" at kspeek123@earthlink.net

PrimitiveWays Home Page
© PrimitiveWays 1998 - 2003