Old Ways Skills Classes
at The Maidu Interpretive Center in Roseville

The Maidu Interpretive Center: Native American Museum and Nature Learning Center is a new facility
operated by the Roseville Park and Recreation Department. Its 60 acre site encompasses an ancient
Maidu Indian village site and a state of the art visitors center. The center offers museum tours,
historic site tours, hands on exhibits, old ways workshops, seasonal nature programs, cultural
demonstrations, children's story times, campfires, guest speakers and California Indian Life and
Archeology Outreach programs for local schools.
For more information about these classes, please contact:
The Maidu interpretive Center, Historic Site and Nature Learning Center
1960 Johnson Ranch Drive
Roseville CA 95661
916-772-4242
Hours: Tuesday through Saturday 9 am to 4 pm

January 26: HOW TO PAINT A MAMMONTH!
Learn the processes and techniques for turning natural minerals into pigments and natural plant and animal materials into brushes.
Instructor: Chuck Kritzon

February 2 and 3: BEGINNING BASKET WEAVING
Join us for this weekend adventure in weaving a twined basket. Learn how to identify, manage, collect and prepare materials for twinned baskets, and then start your own twinned basket. All materials included.
Instructor: Sage La Pena

February 23: HOW TO KILL A MAMMOTH!
The atlatl or spear thrower was the weapon of choice by our early ancestors. In this class you will learn to make and use your own atlatl and spear! Techniques for shaping wood and bone with stone tools and uses of natural glues and bindings will be explored.
Instructor: Chuck Kritzon

March 9: HOW TO COOK A MAMMOTH!
So you have a mammoth thawing out for dinner. How are you going to cook it? The ability to make fire was one of the most important skills early humans discovered. In this class we will see fire made by a variety of different techniques and then you will have the opportunity to create your own fire starting kit and make your own fire.
Instructor: Chuck Kritzon

March 16: OLD WAYS SKILLS SAMPLER
Learn how to prepare acorn meal, weave rush mats, make and play California Indian games, and tell stories in this traditional old ways workshop for educators and other interested participants.
Instructor: Staff

May 2: EDIBLE AND USEFUL PLANTS
Learn how to identify native plants, their edible and medicinal uses, including soaproot, which is used for shampoo, glue, fish poison and brushes, then make your own soaproot brush using natural materials provided.
Instructor :Sage La Pena
For more information about these classes, please contact:
The Maidu Interpretive Center, Historic Site and Nature Learning Center
1960 Johnson Ranch Drive
Roseville CA 95661
916-772-4242
Hours: Tuesday through Saturday 9 am to 4 pm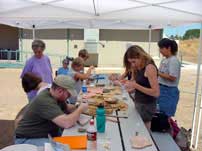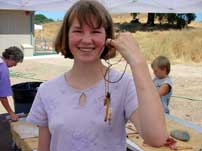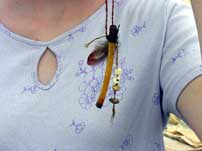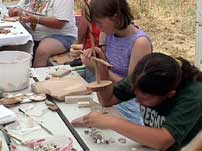 E-mail your comments to "Chuck Kritzon" at chuckk@petroglyphics.com
PrimitiveWays Home Page
© PrimitiveWays 1998 - 2003