California Knapping
by Paul D. Campbell
© copyright 1999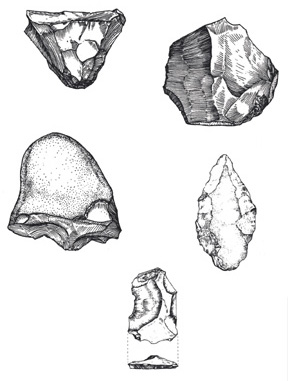 Early San Dieguito artifacts (from left to right and down):
crude prepared platform core, cutting flake, chopper,
biface "knife" and blade. (Rogers, 1966).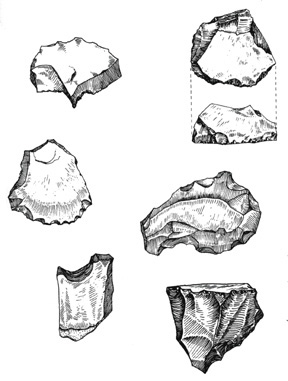 More early San Dieguito artifacts: graver, pulping plane, convex scraper, concave scraper and combination scraper. Last is a rare prepared platform core, from later San Dieguito phases when andesite and to a lesser extent, quartzite continued in use, but basalt, jasper and chalcedony also came to be employed. (Additional early and later examples of San Dieguito stone artifacts can be found in Malcolm J. Rogers' "Ancient Hunters of the Far West", 1966).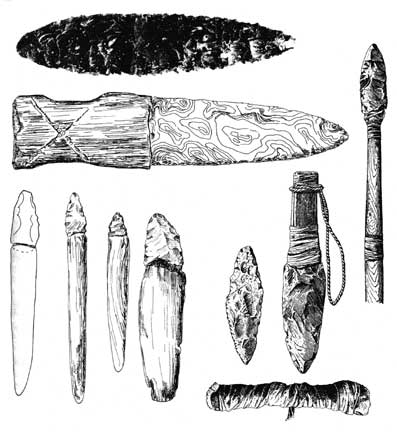 Knives, spears and scrapers. Top: archaic coastal southern California stone knife with serrated edges from Topanga Canyon (in Treganza, 1958). Below: blade of chert hafted with asphaltum, handle decorated in shell bead inlay; found on beach in Long Beach area, possibly washed ashore in 1934; 26 cm. in length (sketched by Georgia Lee; Hudson, 1987). Left: Chumash knife from San Nicolas Island, around 7" in length, redwood handle, gray flinty shale blade attached with asphaltum (collected by De Cessac, sketched by Georgia Lee; Hudson 1987). Next three: Chumash knives found on Santa Barbara and Santa Cruz islands in the 1870s (collected by Schumacher, sketched by Lee; Hudson, 1987). Maidu knives and spear of black basalt; knife points, 11 cm. and 17 cm; spear point, 16 cm. Knife handle is made from two pieces of wood, lashed and pitched. Spear point inserted in shaft, wrapped with sinew and heavily pitched (Dixon, 1905). Bottom: serrated stone scrapers hafted at either end of wooden handle. In use, they were drawn toward the body; Maidu (Dixon, 1905).
Back to the beginning

The article is from the book, entitled "Survival Skills of Native California" (ISBN 0-87905-921-4), by Paul Douglas Campbell. Permission to use the article on the PrimitiveWays website was given by Mr. Campbell. Paul Campbell can be contacted through his publisher, Gibbs Smith, P.O. Box 667, Layton, Utah 84041.
We hope the information on the PrimitiveWays website is both instructional and enjoyable. Understand that no warranty or guarantee is included. We expect adults to act responsibly and children to be supervised by a responsible adult. If you use the information on this site to create your own projects or if you try techniques described on PrimitiveWays, behave in accordance with applicable laws, and think about the sustainability of natural resources. Using tools or techniques described on PrimitiveWays can be dangerous with exposure to heavy, sharp or pointed objects, fire, stone tools and hazards present in outdoor settings. Without proper care and caution, or if done incorrectly, there is a risk of property damage, personal injury or even death. So, be advised: Anyone using any information provided on the PrimitiveWays website assumes responsibility for using proper care and caution to protect property, the life, health and safety of himself or herself and all others. He or she expressly assumes all risk of harm or damage to all persons or property proximately caused by the use of this information.
© PrimitiveWays 2013