The $5 Friction Fire Starter Kit
by Dick Baugh and Bob Gillis

This Friction Fire Starter Kit includes a cedar hearth board, a mule fat spindle, some tinder and instructions. It is guaranteed to start a fire! We have noticed that beginners often have a hard time starting a friction fire. If they do not succeed they give up perhaps never to try again. The two main problems are lack of the right materials and the strength and skill to supply enough friction. This Friction Fire Starter Kit will put into your hands the right materials to succeed in making a fire by friction. After you have succeeded using our materials and a drill our hope is that you will have the confidence to go out locate native materials near you and start a fire by friction using a bow drill or hand spindle. The ability to make fire by friction with your own hands is not only they most basic survival skill it is an act that links you to our ancestors in a way that will deeply move you.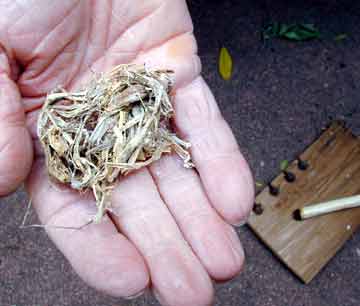 Using the Friction Fire Kit is simple. First shred your tinder well.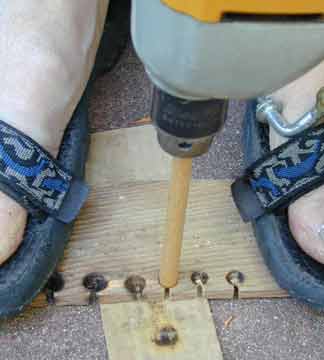 Place a piece of leaf or paper under your hearth board. Insert the spindle in a drill, turn it on and apply gentle pressure.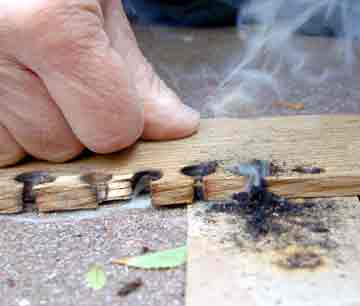 After you get smoke remove the spindle.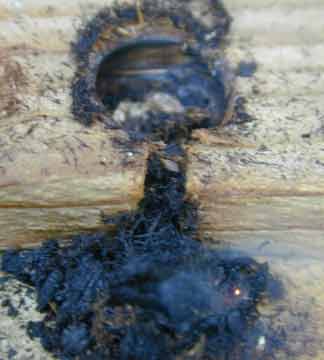 If the char still smokes you have a coal.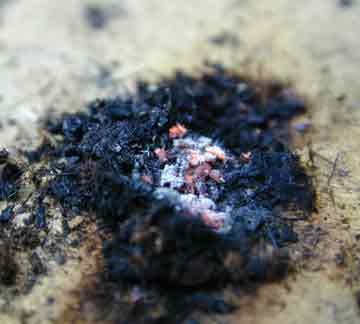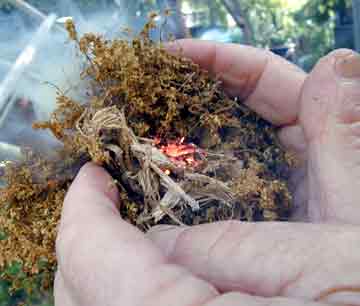 Pick up the paper with your coal on it and gently place the coal into the center of your tinder.
Blow gently on the coal until your get a flame.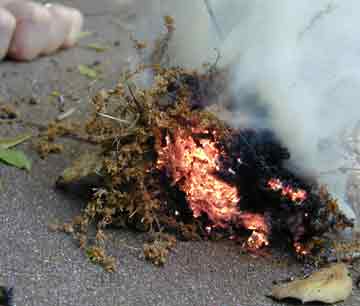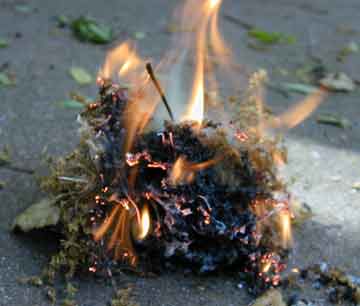 Then add some small sticks to your flame and you have fire!!
The Friction Fire Starter Kit $5.00. plus $1.00 for shipping and handling. In California add $.40 for sales tax.
It is Guaranteed to start a fire! If it does not start a fire for you simply return it and we will send your money back.
Send your check to:
Dick Baugh
490 Gary Ct.
Palo Alto, CA 94306
The purpose of this kit is to introduce you to the fascinating world of fire by friction. Once you have succeeded in starting a fire with the starter kit plus an electric drill I hope you will be inspired to find your own materials and make either a hand drill or bow drill set.
Contents:
Hearthboard: red cedar (Thuja plicata) shingle material
Spindle: mule fat (Baccharus vimnea)
Tinder: shredded redwood (Sequoia sempervirens) bark
Ember catcher: cardboard
In addition you will need an electric drill with a 3/8 inch chuck and more tinder material.
Note: If you are only interested in creating a smoldering ember then step 1. and the steps involved in transferring a smoldering ember to the tinder bundle and blowing until you get a flame can be skipped.

1. Prepare a tinder bundle. This is a tennis ball-sized wad of fibrous plant material which looks somewhat like a bird nest. Coarse fibers should be on the bottom and finer fibers on the top. In general , any fine fibrous dry plant material will work. In addition to shredded redwood bark I have used dry thin stemmed grass, inner bark from a dead cottonwood tree, jute string fibers, milkweed and shredded cattail leaves.
2. Chuck the spindle in an electric drill. Use the highest speed setting.
3. Set the hearthboard on a dry, level surface with the little cardboard ember catcher underneath the hole and notch.
4. Place your foot on the hearthboard to prevent it from moving.
5. Insert the business end of the spindle into one of the holes and start spinning. Use very light downward pressure. After abut 20 seconds a little wisp of smoke should start rising. Increase the pressure a little bit more and more smoke should be generated. Along with the smoke finely powdered charred wood (char) should come out of the notch and start to form a small pile. When the pile of char is about 1/2 inch (1.2 cm) in diameter and smoking stop drilling and set the drill aside. The little pile of char should be smoldering.
N.B. One cause of failure is too much downward pressure with the electric drill. Excessive force will wear the wood away too quickly it will not reach the ignition temperature (700 to 800 degrees F). When this happens the char will be coarse and gritty instead of very fine.

At this time make all of your movements very carefully in order to not disturb the smoldering char pile. Now you don't need to be in a hurry. GENTLY remove the hearthboard from the ember catcher. Any char which adheres to the notch should be dislodged with a dry twig and deposited on the smoldering char.
6. Transfer the smoldering char to the top of the tinder bundle and fold the tinder bundle so it surrounds the smoldering ember. Immediately start blowing on the tinder bundle with long steady breath, inhaling quickly. In order to avoid inhaling the smoke hold the tinder bundle high and keep the wind at your back. Keep blowing until the tinder bundle bursts into flame. Congratulations!
N.B. There are several common causes of failure to obtain a flame from the tinder bundle. You must always manipulate the tinder bundle so that there is tinder (fuel) in contact with the smoldering char. It is helpful if you initially have very find fibers in contact with the char. Be sure you have a big enough tinder pile. Don't let the tinder get too "fluffy. Remember, in order to create a fire you need the gang of three: heat, oxygen and fuel. Damp tinder can be dried on a rainy day by enclosing it in a bandanna and holding it inside your shirt for several hours. Patience!

E-mail your comments to "Richard A. Baugh" at richardbaugh@comcast.net or "Bob Gillis" at shelter@best.com
E-mail questions answered about fire-by-friction.
The PrimitiveWays™ Book
The PrimitiveWays™ CD
PrimitiveWays Home Page
© PrimitiveWays 1998 - 2003