Thumb Loop Hand Drill Fire Kit
Produced by KAHIKO Arts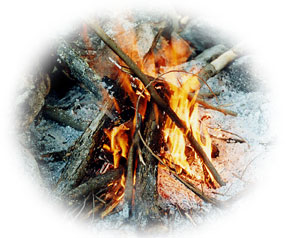 Wood everywhere, but never a spindle long enough for a hand drill fire. Creating fire by friction is never easy and finding the right materials in the wilderness can be difficult, if you don't know what particular wood you're looking for. Any advantage in the wild to help you create the fire-by-friction method is always useful. The solution can be found in a device called the Thumb Loop Hand Drill.
Spindle rotation and downward pressure are two important requirements for starting a hand drill fire. The Thumb Loop Hand Drill Fire Kit will help you with that all important downward pressure. It will also allow you to use short pieces of wood for your spindle. Long, straight branches or stalks do not have to be hacked out of a plant for your spindle needs.
The Thumb Loop Hand Drill can be taken anywhere with you on backpacking or hiking trips. It's light weight and handy. The Thumb Loop Hand Drill is also great for demonstrating the fire-by-friction process to boy scout or girl scout troops, campers, for nature and school programs, or to anyone who is interested in Stone Age skills. Making fire has a strong positive psychological impact upon an individual in a survival situation.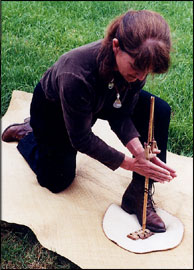 Instructions and sample wood materials are included in the kit to get you started. There is information on troubleshooting your fire kit. The most frequently asked questions concerning the fire-by-friction procedure are discussed. A list of wood recommendations is also provided in the kit. Increase your success rate with the Thumb Loop Hand Drill. Learn the art of calling down the Sun. Awaken the spirit of the wood and discover the mystery of FIRE!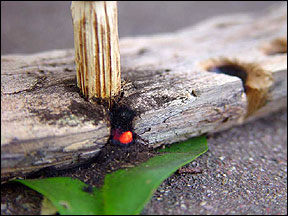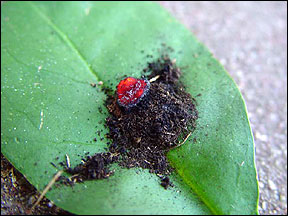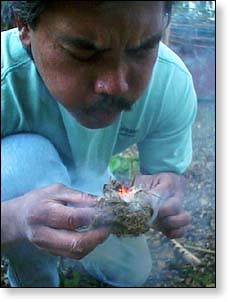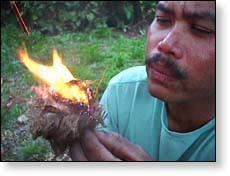 "Short wooden spindles everywhere
and an ember is ready to be coaxed out of the hearthboard
with my Thumb Loop Hand Drill."
---
Included in each Thumb Loop Hand Drill Fire Kit are:
Main spindle shaft
Cordage & leather thumb loops
5 wooden spindle bits
1 hearthboard
Tinder nest
Instructions, including information on:
Gathering Fire-by-Friction Wood
Making the Spindle Bit
Creating the Hearthboard & Notches
Troubleshooting
Starting a Campfire with Your Tinder Fire
Wood Recommendations
The PYRO 200 is the standard Thump Loop Hand Drill Fire Kit. The main spindle shaft has hand grooves, but no artwork. The design is constant with every PYRO 200.
All other kits will have different woodburning artwork, carvings, inlay, and/or various hand groove designs on each main spindle shaft. The customized pieces will vary in price according to the artwork, designs, and type of materials used. Inquire about the custom kits and prices.
To order your Thumb Loop Hand Drill Fire Kit: print out a copy of the Order Form (or write a facsimile), fill out the form, and mail it to KAHIKO Arts, along with the total amount.

Read the e-mail comments from customers about the fire kit.
E-mail your questions or comments to Dino Labiste at KahikoArts@yahoo.com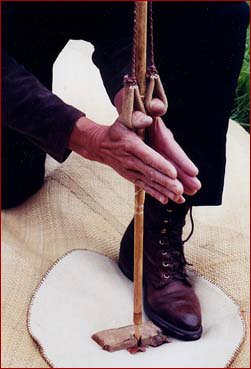 Item Number - PYRO 200
Price: $30
Item Number - 200FB
Fire Bundle: 5 wooden spindle bits, 1 hearthboard, and 1 tinder nest
(For customers who need extra materials. Sold only to customers who have purchased a Thumb Loop Hand Drill Fire Kit.)
Price: $9



KAHIKO Arts
KAHIKO Arts Workshops
PrimitiveWays Home Page
© KAHIKO Arts 2006