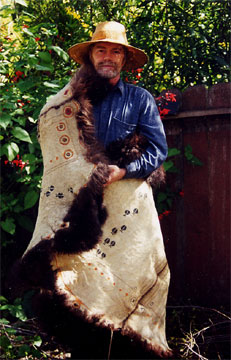 My friend, Matin, wearing a painted buffalo robe.
"The hide I have from Markus is personal. It is a work of art, like the difference between a plastic bowl and one hand made by a friend. It is a story of the past. Huge, cuddly, and warm. Moves me to the roots. Takes care of my ancestral desires for security."
Matin
Sonja in a robe with a beaded "Blanket Strip" along the whole length.
"I have been connected to the buffalo spirit ever since I was a little girl, always reading about the natives of North America. The wonderful surprise of meeting Markus with his brain tanned buffalo hides just made it very clear to me that I can finally connect with the Buffalo Nation on a real physical level. My buffalo hide was with me last year during my rite of passage and it was very powerful to be wrapped in the hide during the ceremony."
Sonja